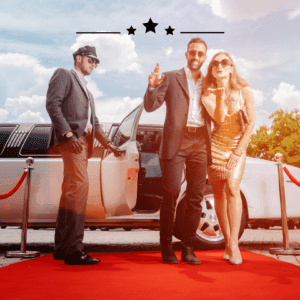 Limousine Car 
Introducing our esteemed clientele to a world of opulence, we are proud to present our unparalleled Limousine Car Rental Service – the ultimate experience in traveling with style and prestige. Prepare to indulge in an unforgettable ride as we embark on a delightful exploration of luxury on wheels.
Setting the Stage for Luxury:
At the heart of our endeavors is a dedication to providing our customers with an experience that transcends the boundaries of traditional car rentals. From the moment you lay eyes on our meticulously curated fleet of Limousines, you'll know you've entered a realm of sheer indulgence.
Each vehicle is a marvel of engineering, boasting elegant lines, state-of-the-art amenities, and unparalleled comfort, elevating your journey to an extraordinary affair.
The Epitome of Professionalism:
Our commitment to excellence extends beyond the extravagance of our vehicles. At our luxury car rental company, we pride ourselves on delivering a seamless and premium customer experience. From the very first inquiry to the moment you step out of our Limousine, our team of dedicated professionals is at your service.
Unparalleled Versatility:
Whether you're looking to make a grand entrance at a lavish event, impress corporate clients with an exceptional service, or create unforgettable memories on a special occasion, our Limousine Car Rental Service is designed to cater to your every desire. Our fleet boasts a variety of top-of-the-line Limousines, each tailored to suit your needs perfectly.
Islamabad and Beyond:
While our roots lie in the vibrant city of Islamabad, our vision extends beyond its boundaries. Embracing the spirit of exploration, our Limousine Car Rental Service is available across Pakistan.
A Commitment to Excellence:
As a leading luxury car rental company, we remain dedicated to constantly raising the bar in providing unparalleled service.