Are you planning a trip to Islamabad and need a reliable mode of transportation to explore the beautiful capital city of Pakistan? Look no further! Our Rent a Car Islamabad service is your trusted partner in ensuring a seamless and enjoyable travel experience. Discover how renting a car with us can enhance your Islamabad journey.
Economy Cars: Perfect for budget-conscious travelers, our economy cars offer excellent fuel efficiency without compromising on comfort and style.
Standard Cars: Ideal for business travelers or small groups, our sedan rentals provide a comfortable and elegant way to navigate the city.
SUVs: If you need extra space for luggage or a group of passengers, our SUVs offer both comfort and versatility, making them suitable for various travel scenarios.
Luxury Cars: For those seeking an elevated travel experience, our luxury car rentals provide the ultimate in style, sophistication, and performance.
Vans and Minibuses: Planning a group outing or a family trip? Our vans and minibuses offer ample space and comfort for larger parties.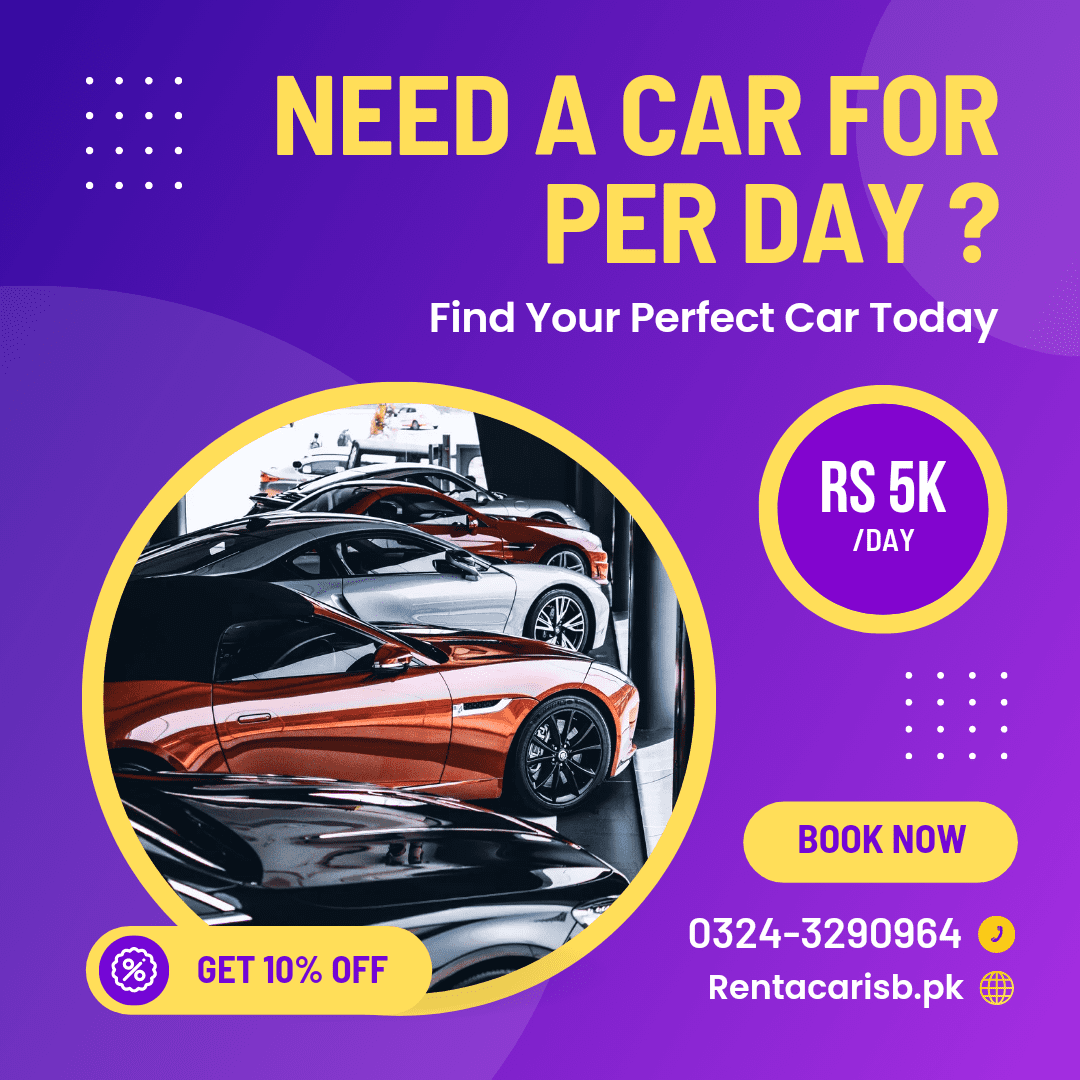 Luxury Rent a car Islamabad
At Rent a Car Islamabad, our primary focus is on customer satisfaction. We believe that exceptional service starts with understanding and meeting your unique needs. Here's how we ensure a customer-centric experience:
24/7 Availability: We're here for you around the clock.
Effortless Booking: Our user-friendly online booking platform allows you to reserve your vehicle with ease.
Airport Pickup and Drop-off: Arriving at Islamabad's airports? We provide convenient airport pickup and drop-off services to ensure a smooth transition to your rental car.
Affordable Rates: Our rental rates are designed to accommodate various budgets without compromising on the quality of service or vehicles.
Special Offers: Keep an eye out for our special promotions and discounts, which can provide additional savings on your rental.
Reliability and Safety:
Regular Maintenance: Our vehicles undergo routine maintenance checks to guarantee their optimal performance and safety features.
Explore Islamabad and Beyond:
Islamabad is a city known for its scenic beauty, historical landmarks, and cultural attractions.
Faisal Mosque: As one of the largest mosques in the world, the Faisal Mosque is an architectural masterpiece and a symbol of Islamabad.
Daman-e-Koh: This viewpoint offers breathtaking panoramic views of Islamabad and the lush Margalla Hills.
Pakistan Monument: Explore the rich history and culture of Pakistan through the Pakistan Monument, featuring a museum and a beautiful garden.
Lok Virsa Museum: Immerse yourself in Pakistan's diverse heritage and traditions at this museum.
Rawal Lake: Enjoy a peaceful day by the lake, go boating, or visit the nearby restaurants for a scenic meal.
Pir Sohawa: Located atop the Margalla Hills, Pir Sohawa is a serene hill station offering a refreshing escape from the city.
Beyond Islamabad, your rental car can take you to destinations like Murree, Nathia Gali, and more, where you can explore the natural beauty of Pakistan's northern regions.
We take immense pride in the positive feedback and testimonials from our satisfied customers. Their experiences reflect our commitment to providing the best car rental service in Islamabad.
Clean and Well-Maintained Vehicles: Customers frequently comment on the cleanliness and excellent condition of our rental cars.
We understand the value of your time, and our efficient service ensures that you can quickly get on the road to start your adventure.
Reliability: Our vehicles are known for their reliability, ensuring that you have a stress-free journey.
Booking Your Rental Car: Ready to experience the convenience and freedom of renting a car in Islamabad with us? Booking your rental car.
We're here to make your Islamabad travel experience exceptional. If you have any questions, require assistance, or need more information about our Rent a Car Islamabad service, please feel free to contact us:
Email: Infi@Rentacarisb.pk
Address: Sector G-11 Markaz Islamabad.
Renting a car in Islamabad has never been easier or more convenient. Our Rent a Car Islamabad service is your trusted partner for a smooth and enjoyable travel experience. Discover Islamabad at your own pace, make unforgettable memories, and embark on unforgettable adventures with Rent a Car Islamabad. Book your rental car today and experience the difference.
Make / Model
1-2 Days per
Day Rate
3-6 Days per
Day Rate
7-13 Days per
Day Rate
14+Days per
Day Rate
30+Days per
Day Rate
"Toyota Parado
2018/2023"
18,000/-
16,000/-
15,000/-
13,000/-
12,000/-
"Toyota Revo
2018/2023"
10,000/-
9,000/-
8,500/-
8,000/-
7,500/-
Toyota Corolla
2015/2017
4,500/-
4,300/-
4,000/-
3,500/-
3,300/-
Toyota Corolla
2018/2023
5,000/-
4,500/-
4,200/-
4,000/-
3,500/-
Honda Civic
2017/2021
9,000/-
8,500/-
8,000/-
7,500/-
7,000/-
Honda Civic
2022/2023
16,000/-
15,000/-
14,000/-
13,000/-
11,000/-
Honda City
2018/2021
4,500/-
4,300/-
4,000/-
3,500/-
3,300/-
Honda City
2022/2023
5,000/-
4,500/-
4,200/-
4,000/-
3,500/-
Suzuki Cultus
2019/2023
4,000/-
3,700/-
3,500/-
3,300/-
3,000/-
Suzuki Alto
2020/2023
4,000/-
3,700/-
3,500/-
3,300/-
3,000/-
Wagon R 1000cc
2019/2023
4,000/-
3,700/-
3,500/-
3,300/-
3,000/-
"Mira 660cc
2019/2023"
4,000/-
3,700/-
3,500/-
3,300/-
3,000/-
Islamabad To Lahore Intercity Rates
| VEHICLE | ONE WAY | TWO WAY |
| --- | --- | --- |
| Toyota Corolla | PKR 17000 | PKR 29000 |
| Honda Civic | PKR 20000 | PKR 40000 |
| Honda BRV | PKR 19000 | PKR 32000 |
| Toyota Hiace | PKR 45000 | PKR 60000 |
| Toyota Coaster | PKR 65000 | PKR 75000 |
| Yutong Bus | PKR 120000 | PKR 200000 |